In some of our other posts we've taken a look at the different online accounting software options that we're familiar with here at Around Finance.  This time we're venturing closer to home with an Irish accounting software – Surf Accounts!
Surf Accounts was formed in 2011 and is owned by Relate Software which has been creating software for accountants for over 25 years.  Unlike other accounting software companies, Surf Accounts is a wholly Irish-owned company.  Recently Relate Software and Thesaurus software (a payroll software company) joined forces to create Bright.  Bright offers both payroll and accounting software for small to medium companies.
So how does Surf Accounts compare to Xero, Quickbooks and Sage?  Let's take a look at the pros and cons.
The benefits of Surf Accounts
As mentioned before, Surf Accounts is based in Ireland so unlike Quickbooks, which only released the Quickbooks Ireland version in 2020, Surf Accounts accounting software was created with Irish companies in mind.  This is a big benefit when it comes to dealing with the Irish VAT system and includes VAT3, RTD, VIES & INTRASTAT built in.  It is set up to handle business within the EU and UK.
As per the above and due to a dedicated compliance team, they have the benefit of always being compliant with ROI and UK Law.
Surf Accounts comes with an integrated CRM.  So not only can you keep track of your accounts, but also your clients and your sales team.  You can manage the full sales pipeline from booking sales calls in the diary to sending out quotes and invoices. You can also oversee your sales team's performance with the reporting feature.  A very useful feature to prevent you having to jump between programs.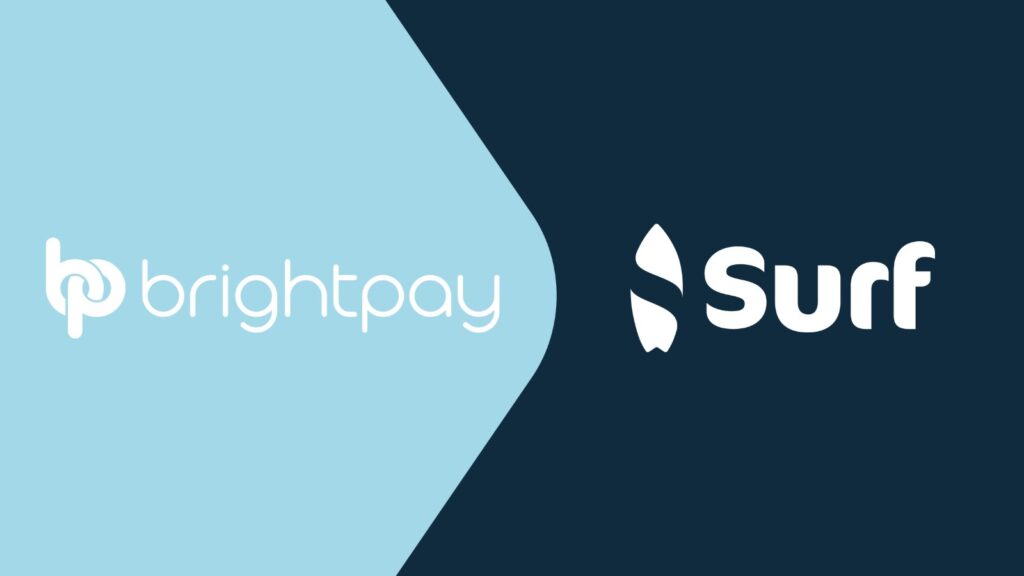 Surf Accounts comes with all the benefits of cloud-based accounting. The security of knowing your data is well looked after through encryption and automatic backups. There is also the ability to do work on the go on any device through mobile access for both you and your accountant. You can download the app for easy access on both ios and android platforms.
This Irish accounting software, also includes all the online accounting standard features from invoice management to reporting and automation. You can link your online bank account in order to benefit from faster bank reconciliations or upload csv files if you prefer. You can also generate SEPA files to submit to your bank to pay suppliers.
Another advantage is that Surf Accounts offers free local support and you can access training to learn more about all the features, although this comes at an additional cost.
One of the biggest pros for Surf Accounts comes from their parent company, Bright. Being specialists in accounting software means that they integrate seamlessly with other software already under their umbrella, including Surf Accounts Production for preparing financial statements and Bright Pay for payroll. You can read more about the API here: https://www.brightpay.ie/pages/journal-integration-surfaccounts.
The disadvantages of Surf Accounts
Although being a local company was under the 'pros' section, it can also be listed under the cons. Surf Accounts doesn't quite have the same large global footprint that a company like Quickbooks or Xero does. Intuit/Quickbooks has the largest accounting software market share, but that is predominantly in the US. Xero is from New Zealand and originally focused on Australasia, but has been growing globally in recent years.
Google reviews tend to show a mixed bag of ratings. Some customers report technical issues with linking bank accounts or logging in problems. Everyone does seem to rave about the Surf Accounts support team and their willingness to help, even if the issue isn't always resolved.
Despite being a smaller company, Surf Accounts hasn't tried to compete on price. Currently, at the end of 2022, Quickbooks is either the same price for all 3 levels of the subscription plan or cheaper (they are currently running a 50% off discount for your first 3 months). Xero, while a bit more expensive, allows for multiple users whereas the Surf Accounts pricing is for 1 user and each additional user costs extra (albeit only €4).
Lastly, while Surf Accounts does have a good user interface, it's not quite as slick as Xero. So if stylish design is your thing, you might want to try some of the other options first.
How much does Surf Accounts cost?
When it comes to Surf Accounts pricing, there are 3 plans to choose from so you have flexibility to scale as your business grows. The plans go from Starter to Standard to Enterprise and you can cancel your subscription at any time. Surf Accounts will hold your data for 60 days in case you want to reactivate your account.
Surf Accounts Accountant
There is no shortage of online accounting software these days and when it comes down to it, it really is just a matter of preference. Surf Accounts, Xero, Quickbooks and Sage are all good programs for managing your accounting and bookkeeping so there is no right or wrong choice.
You can download the trial version of Surf Accounts and spend some time with the software before you commit.
The very best option available to you would be to set up a meeting with us so we can discuss your needs in more detail and help you choose the software that works best for you.
.