If you are weighing up your options for a small business accounting software, then Quickbooks should definitely be near the top of your list.
The parent company, Intuit, was founded in the USA 40 years ago so you know it is a name that can be trusted.  Starting as a program called Quicken, the software has gone through various iterations over the years with the current offering being the cloud-based version – QuickBooks Online (QBO).  Quickbooks Ireland was launched in 2022.
As a Quickbooks accounting firm here in Ireland, we use this software daily as part of our online accounting services. We've put together this short review to help you decide if this is the right software for you. Chat to us if you have any questions.
What is Quickbooks?
QBO is an online accounting software targeted mainly at small to medium sized businesses.  It allows business owners to complete all their bookkeeping and accounting tasks, from reconciling bank statements to sending invoices to generating management reports.
What are the advantages of using Quickbooks?
In the past Quickbooks came as a desktop application (which is being discontinued), but fortunately they made the transition to an online accounting software.  There are numerous advantages to having your accounts in the cloud.  The first is that you can access your data from anywhere allowing you to send invoices or follow up on accounts receivables, no matter where you are.  
Another benefit related to location is that an online accountant in Ireland, like Around Finance, can do your accounting and bookkeeping remotely. This eliminates the need for laborious face to face meetings and shipping off boxes of receipts and records to your bookkeeper.
Quickbooks, like their competitors Xero and Surf Accounts, makes use of artificial intelligence (AI).  You can link your online bank account and their algorithm learns how to process recurring transactions in your bank statements.  
Again, this saves you time as you no longer have to manually capture the information.  The same applies to capturing receipts.  We use Dext here at Around Finance, but you can also use the QBO app to capture photos of your receipts and match them to bills.
Another advantage of Quickbooks is that in 2020 they released a version specifically for Ireland that can handle our local VAT requirements.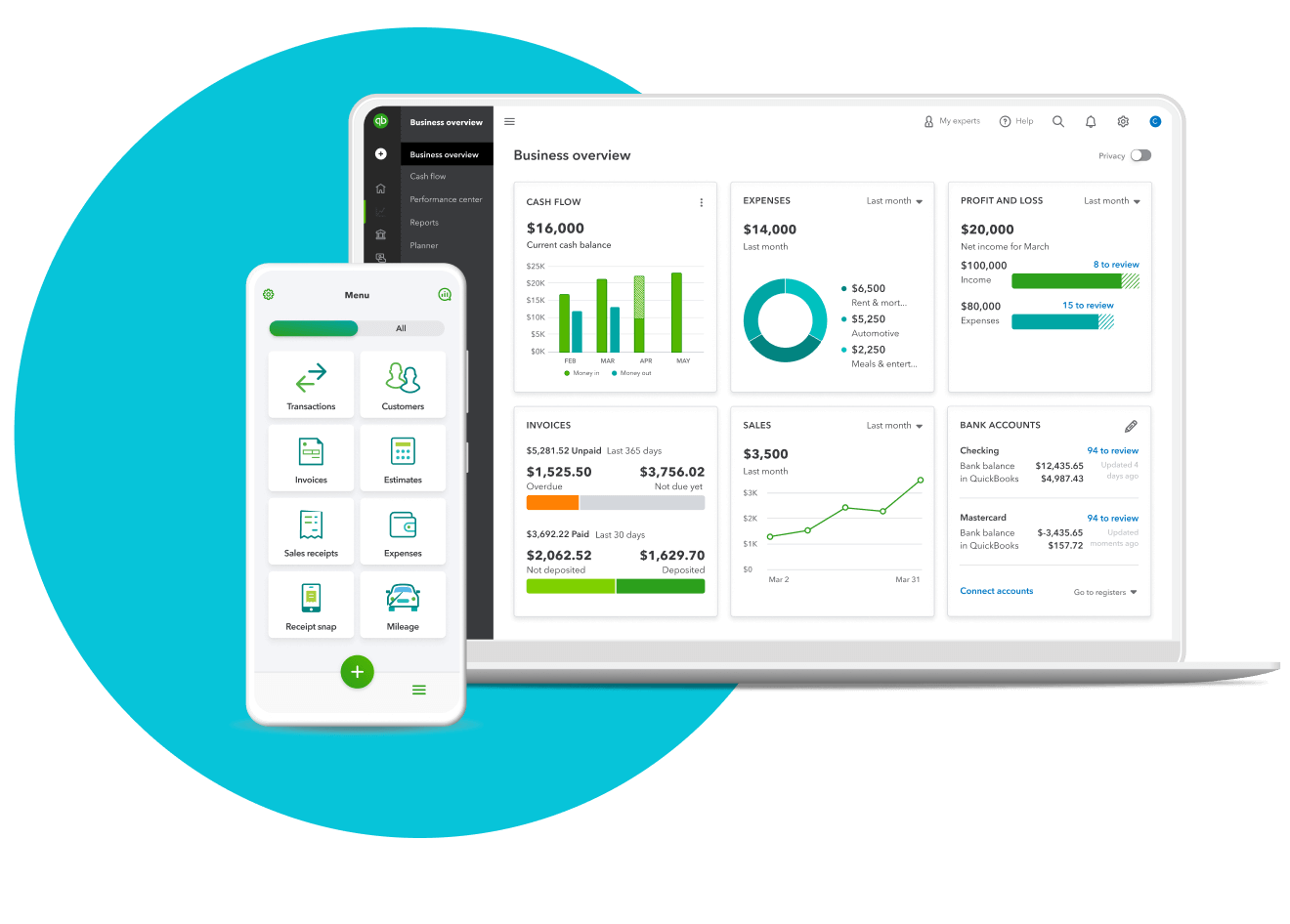 What are the disadvantages of using Quickbooks?
If you are a small business without much accounting experience, you might find the learning curve quite steep. It can be challenging setting up a company from scratch and it is easier to get it done right the first time rather than correcting issues at a later stage .
This is why we recommend making use of an accountant that can set up your Chart of Accounts, Item List and Classes correctly to give you the maximum benefit from Quickbooks.
Another disadvantage is that the software isn't as flexible as some of its competitors. This probably comes from adapting the desktop version to the cloud space rather than designing for the online use from the get go. You might not find everything as customisable as you would like.
This is particularly an issue with ecommerce businesses who may encounter issues integrating their online shopping platforms to Quickbooks.
Overall though, the pros definitely outweigh the cons.
What are the main features of Quickbooks?
Quickbooks Ireland offers the following features:
Invoicing – Create your own invoice template. Once invoiced you can send payment reminders and when paid you can automatically match payments to the invoices.
Expenses – You can create a list of expenses and assign them to recurring payments. The reporting feature will allow you to keep track of which expenses to be weary of.
Bank Feeds – Connect multiple bank accounts to Quickbooks. See your current balance and easily assign money coming in and out to the correct accounts. Eliminate capturing errors of the past!
VAT – Keep track of your input and output VAT and bi-monthly submissions.
Inventory – Manage your stock and ensure your orders never go unfulfilled. For online retailers using Quickbooks, this can often be a challenge to get right. Chat to us if you need help.
Capture and Organise Receipts – As mentioned above, you can use your phone to take photos of your receipts and match them to bills. No more need for digging through files when tax season comes around.
Mobile Application – Do business from anywhere with the QBO mobile app. Quickbooks also allows for 3rd party apps through its API.
Reporting – Quickbooks offers the standard accounting software reports including your Profit & Loss, Balance Sheet and Accounts Receivable & Payable. You can also prepare for the future with a statement of Cash Flows and analyze your sales by customer or expense by supplier.
Work with Multiple Currencies – Need to send invoices or get paid in Euros, Pounds and Dollars? Quickbooks Ireland has got you covered.
Security – Your data is kept safe and secure through constant backups and SSL encryption.
Transfer from another accounting software program with ease – just import your spreadsheets or files!
How much does Quickbooks cost?
Quickbooks Ireland has 3 tiers of pricing.
The Simple Start is an entry level plan for a sole-proprietor or small business.
Essentials is the next step up with additional features for managing suppliers, multi-currency and multi-user scenarios.
Plus is the top level subscription plan and will allow you additional users along with inventory tracking and budget management.
Quickbooks Accountant
If you're not sure how to move forward from here or need some advice on which Online Accounting Software is best for you, we're here to help! Book a quick discovery call with us and we can guide you through your available options.